CRYOFIT ASIA
Cryotherapy Technology - Service & distribution
Feel Better, Do Better, Look Better
Cryotherapy is a non invasive cold therapy. It exposes the body to extreme cold temperatures -130C to -190C.
We are a healthcare & wellness center with a focus on quality of life. We will not let pain be determined by age or previous injuries. The aim of cryotherapy is to get you performing and feeling better than before no matter who you are.
Cryotherapy which literally means cold therapy is an amazing technology with many benefits where miracles can happen!
Whole Body Cryotherapy
Far superior to ice baths, whole body cryotherapy flushes toxins and enriches red blood cells with oxygen, nutrients and enzymes. WBC works to soothe, comfort and provide relief in the effort to speed recovery for those who have stressed their muscles and anyone looking to rejuvenate from the stress of daily life.
Extreme cold can stimulate temperature receptors in the skin to activate the nervous, immune and endocrine systems, resulting in reduction of pain and inflammation but also improvement in mood.
Recommended use:
Pain & inflammation. Join & back pain. Arthritis & osteoporosis.
Psoriasis & eczema.
Fibromyalgia, multiple sclerosis, nerve pain.
Post surgical rehab.
Better sleep, boost energy & increase recovery.
Collagen growth.
Immune system stimulated.
Depression & mood disorder.
Cryo Slimming
The Ultimate Treatment for Eliminating Cellulite & Undesired Fat!
This is non invasive fat loss and skin toning technology.
CryoSlimming uses cold temperatures to reduce fat. Cryoskin cools the skin just enough to reduce fat whilst improving the appearance of your skin. Cryotherapy hyper stimulates the skin and tissue, greatly speeding up all cellular activities. Cryotherapy has a proven high efficacy in the aesthetics for slimming and "bodysculpting". The results that cryotherapy achieves also applies to the skin. It immediately improves appearance by tightening skin and causing a healthy glow.
CryoToning Cellulite.
With CryoToning Cellulite, there's finally a real, non invasive solution to help you to reduce stubborn cellulite. When diet and exercise aren't enough, Cryoskin will help you to achieve the look you've been striving for. Thanks to the innovative Cryoskin, every treatment is performed with the best patient's comfort.
The elimination of liquids in excess and metabolic wastes occurs through a natural re-absorption of the lymphatic system; This treatment is not invasive and the patient does not feel any pain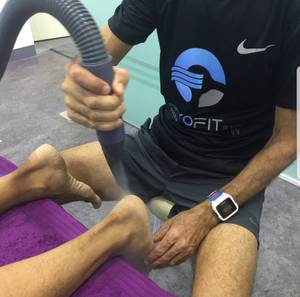 Localised Cryotherapy
Localised cryotherapy is frequently combined with Whole Body Cryotherapy to treat problem areas both from the "inside out" as well as from the "outside in". As temperatures as low as -160 degrees C can be reached by this device, a local area treatment only needs to be conducted for about 10-15 minutes, with a benefit exceeding that of hours of icing.
Recommended use:
Inhibition of inflammation.
Join pain.
Muscle injuries.
Localised swelling.
Tendonitis, plantar fasciitis.
Injury rehab.
Cryoskin Lifting
Cryoskin treatments reduce the appearance of fine lines and wrinkles while improving your skin.
After the treatment you will look younger!
Benefits
Reduces appearance of wrinkles.
Tightens skin.
Boosts collagen production.
Reduces appearance of bags
CryoFacial
The benefits of anti-aging CryoFacial treatments include:
Boost collagen production
Evict toxins
Make pores look smaller
Improve the skin tone and skin texture
Enhance penetration of cosmetics
Infrared Sauna
Infrared sauna has the ability to penetrate human tissue which in turn produces a host of anti-aging health benefits making infrared saunas one of the "hottest" therapies for overall healthier living. Our Sunlighten sauna use patented Solocarbon heaters, with 3 components of mild, near & far infrared in one panel. Third party tested technology ensuring the highest.
Seven preset programs:
Cardio
Detoxification
Pain relief
Relaxation
Weight loss
Skin health
Custom
Normatec boots compression
Our goal is to establish recovery as an integral part of every athlete's training, and we feel NormaTec systems are the best way to accomplish that. The NormaTec PULSE Recovery Systems are dynamic compression devices designed for recovery and rehab. All of our systems use NormaTec's patented PULSE technology to help athletes recover faster between trainings and after performance.
Comfortable compression sleeves that enclose legs and the low back/hips give a deep, relaxing massage and rolling sensation that aid in recovery from training, competition, and injury.
Benefits:
Recovery.
Lymphatic drainage.
Reduce water retention.
Open your own CryoFit Asia center
If you are interested to open a CryoFit Asia Center anywhere in Asia, please contact us.
If you only want to buy the machines, contact us, we are cryo equipment distributors.
Copyright © 2018-2019 CryoFit Asia. All right reserved.